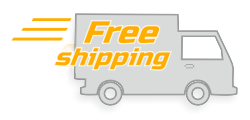 Your SAÉVID purchases will always have a free shipping option, usually by registered post. Express shipping will almost always also be available, although you will have to pay an additional fee which varies depending on the carrier and destination.
Available carriers will automatically be selected based on the delivery address.
Orders for saddles in stock will normally be processed within 24 hours after receipt of your payment, taking into account working days only. You can check the status of your order at any time by accessing "My account/My orders" after logging in with your email address and password.
You will receive the package at the address indicated in the order. If there is no one to pick it up, you may have to go in person to pick it up at the carrier's warehouse.
In such cases, a notice will be left in your mailbox or you will be given instructions by SMS or a phone call. In the case of cash on delivery orders, payment for the total purchase amount will be made in cash at the time of delivery.
When the package is dispatched you will receive an email with a link to check its status. Shipping costs include packaging, handling and postage.
We work with a wide variety of companies to ensure the most suitable shipment for your needs.